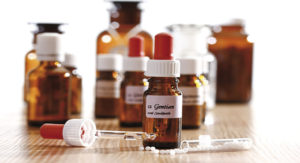 The alternative medical system of homeopathy was developed in Germany at the end of the 18th century over two hundred years ago, first and foremost by Samuel Hahnemann. Supporters of homeopathy point to two unconventional theories: "like cures like"—the notion that a disease can be cured by a substance that produces similar symptoms in healthy people; and "law of minimum dose"—the notion that the lower the dose of the medication, the greater its effectiveness. While it seems contrary to conventional logic, because they are 'energetic medicines' in essence, many homeopathic remedies are so diluted that no molecules of the original substance remain, yet the energetic imprint of the original substance is left to gently 'correct' the imbalance in the patient.
Remedies can be taken as a single item or in combination with other particular remedies as a 'complex' or 'combination' remedy. Some of the most respected homeopathic companies in the world have been formulating remedies for many decades and have invested millions of dollars in research, manufacturing, and education in bringing this medicine to more and more individuals around the world such as Boiron and UNDA/Seroyal. In some parts of Europe, homeopathy is quite common used in conjunction with conventional medicines by mainstream practitioners and is routinely sold at conventional drug stores alongside pharmaceutical prescriptions. It has long been known that the Royal Family of England primarily uses homeopathic medicines to treat their health concerns.
Homeopathic remedies are derived from substances that come from plants, minerals, or animals, such as red onion, arnica (mountain herb), marigold flower, bee venom, silica, belladonna (nightshade), and stinging nettle. Homeopathic remedies are often formulated as sugar pellets to be placed under the tongue until dissolving; they may also be in other forms, such as ointments, gels, drops, creams, and tablets. Treatments are "individualized" or tailored to each person—it is not uncommon for different people with the same condition to receive different treatments as the prescribing is very particular to the presentation in a given individual (just like two individuals with the flu may not have exactly the same symptoms, accordingly their remedy may be adjusted to account for this difference).